School is back in session…and this month, we're offering a crash course on all things Sacramento. Get ready to fill up your social calendar for the rest of August with an exciting lineup of concerts, festivals, River Cats games, and more! We also take a look at the shifting real estate market and some of the recent changes that will affect buyers and sellers in the coming months. Last but certainly not least, we look ahead to this year's top fall decor trends that you can incorporate into your home to create a cozy space and earn some extra points with family, friends, and peers. Read on for the full scoop!
Click on the below links to see what local events and activities are taking place now through the end of August!
Sacramento:
Carmichael:
Every Sunday: Carmichael Farmers' Market
August 13th, 20th & 27th: Concerts in the Park
Fair Oaks:
August 25th: Concerts in the Park
August 26th: Comedy Under the Stars
Rancho Cordova/Gold River:
Folsom:
El Dorado Hills:
Elk Grove:
Roseville:
Rocklin:
August 19th, 20th & 27th: Concerts at the Quarry
August 26th: FREE Farmers Markets at Johnson-Springview Park
Things are starting to look up for buyers. According to a recent Redfin report, the city of Sacramento's housing market is cooling at the second fastest rate in the nation, just behind the Bay Area. This marks a reversal from the height of the pandemic when it attracted scores of remote workers moving in from the Bay Area and other expensive parts of the country.
The latest housing statistics available from the Sacramento Association of Realtors also reveal that most of the Sacramento Region saw price drops in June. The median sales price decreased 2.6% from $575,000 to $560,000. This figure is up 7.7% from June 2021 ($520,000). The active listing inventory increased 21.6% from May to June, from 1,840 units to 2,237 units. Compared with June 2021 (1,297), inventory is up 72.5%. Moreover, the months of inventory increased from 1.4 months to 1.7 months. Median days on market increased from 7 to 8 and average days on market increased from 13 to 14.
So what's causing this cooldown? For starters, mortgage rates have played an instrumental role — they nearly doubled in the first half of the year, reaching almost 6% in June. That caused the monthly mortgage payment for a typical homebuyer to surge 45% year-over-year to $2,459 in June and priced many buyers out of the market — therefore, increasing inventory and days on market.
However, we are now seeing mortgage rates fall close to 5%. The recent drop in mortgage rates from the June peak cuts about $400 a month from the monthly mortgage payment of a homebuyer looking at purchasing the median-priced home of $417,000. This opens the door for millions of homebuyers who were once priced out when mortgage rates soared in the first months of the year and are now able to get back into the game.
This recent drop in rates, coupled with increased inventory and a spike in average days on market should give buyers more leverage in the home buying process. 
Fall may seem a long ways away, but with the kids back to school, September 22nd will be here before we know it! If you're thinking about doing a bit of re-decorating to get your home ready for the new season, now is a great time to find on-trend items that will create a comforting space and help you fall for your home all over again. Here are some of this year's most anticipated fall decor trends.
Earth Tones: Earth tones are making a big comeback this year and for good reason. "The 'color of the year' selections correlate with where we are as a society," Ginger Curtis, owner and principal designer at Urbanology Designs, says. "People need healing spaces that are restorative and calming." She expects these earthy greens to be paired with other nature-inspired colors—like sky blues, warm browns, and soft grays.
The great thing about this trend is that earth tones pair well with almost every style of decor. If your home already has warmer hues and neutrals, you can easily add a touch of fall by layering in some richer accent colors like this warm-toned pillow arrangement or these amber glass vases from Crate & Barrel. You can also create a cozier space in your living room or bedroom by adding these cotton waffle throws that are now on sale at West Elm.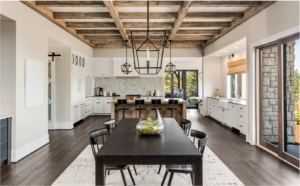 Natural Wood: Incorporating natural wood and warm wood tones is another great way to create a welcoming and relaxed environment for fall — and experts agree. "Manufacturers have developed a happy medium between ultra-dark furniture and super washed-out gray tones," Kristin Bartone, creative director and principal designer at Bartone Interiors says. Warm, medium-tone woods are already popular in flooring, but she says we should see more "lightly stained wood oak" furniture and décor in the coming year. And Mary Beth Christopher, principal designer at MBC Interior Design, agrees. "I'm very ready to say goodbye to overly bleached-out wood," she says. "We are nesting right now. We need comfort, coziness, and warmth."
However, don't panic if you have gray-toned wood flooring or other elements in your home. You can still easily incorporate warmer wood tones through furniture like this reclaimed coffee table from West Elm, or these gorgeous dining room chairs from Wayfair. Free-floating storage shelves are another budget-friendly way to instantly add warmth to your kitchen or living room.
Cozy Textures: Bring on the cozy textures – think chunky cotton, wool throws, and luscious velvet accents to instantly elevate your space and add an element of warmth. "If it's not comfortable, forget it," Caroline Brackett, owner and principal designer at Caroline Brackett Studio of Design, says. "For textures, that means anything furry, nubby, or cozy." And Kim Gordon, principal designer at Kim Gordon Designs, agrees. "We're going to see a huge wave of shapely, soft upholstered pieces that are slung lower to the ground," she says. "This is all about letting your home envelop you."
Not sure where to start? Make your home irresistibly cozy with these faux fur throws or these gorgeous knit pillows.
Candles: While they aren't technically a trend, nothing screams fall like candles. Not only will a candle bring that warm and inviting feeling into your home – but it also serves as a signature fall staple piece that instantly infuses the home with comforting scents. Place these gorgeous votives on the fireplace, entryway, table, or outdoor patio to illuminate your home and add a touch of elegance. On a budget? You can stock up on signature fall scents here.
Mix Vintage & Modern: Traditional touches and antique accents are coming back in a big way — and Mary Beth Christopher, principal designer at MBC Interior Design, agrees.  "Here in California, the T-word (traditional) has been banished. But, traditional design is coming out of the woodwork in a new way." She also notes that people are gravitating toward "pieces that have richness and history"— like ornate mirrors, velvet chairs, and fringe-lined couches. But that doesn't mean getting rid of your modern pieces. "Mixing and matching current furniture pieces with family heirlooms or antiques helps to keep the room feeling timeless," adds Mary Maloney, owner and interior designer at Bee's Knees Interior Design.
If you'd like to add a few vintage pieces to your home, start with a vintage rug, velvet chair, or timeless mirror.